08/07/2023
15 Years of Service - Etta Lundy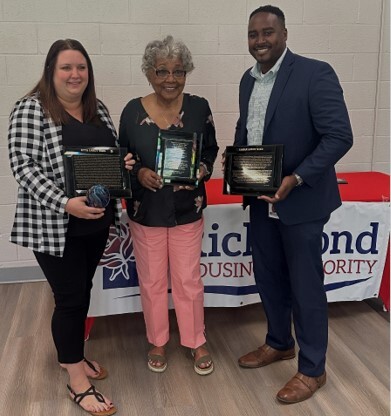 The Housing Authority Board of Commissioners, staff, and residents honored Board Member Etta Lundy on June 12, 2023 for her 15 years of humble and dedicated service. Etta has contributed to the vision and completion of numerous projects, and been a champion for homeownership and generational wealth building for her community, including the renovation of the Reverend James M. Townsend Memorial Building. In addition to receiving an award and plaque for her service on the Board presented to her from HACR Board President, Roxie Deer and HACR Executive Director/President and CEO, Keon Jackson; Etta was also presented with a plaque which will be placed in the East wing in the Reverend James M. Townsend Memorial Building. In great honor and appreciation of Etta for "lifting" those in the community so they may have better lives, the East wing will now be known as the "Etta Lundy Wing" for her years of life-time dedication, unending kindness, and humble service for the benefit of those living in the community now and in the future, and the children attending various programs within the building and community.
Etta was also presented with a special proclamation by Mayor David M. Snow, honoring Etta as a prolific citizen, volunteer and humanitarian for not only her service on the HACR Board of Commissioners, but also for her years of service on Richmond City Council, Richmond Power and Light Board, Dana Corporation, United Way, Richmond Child Welfare Department, Habitat for Humanity and her genuine care over all for her community and family, thereby proclaiming June 12, 2023 as "Etta Lundy Day".
"Our grateful appreciation to You, Etta Lundy, for your life-time dedication to the HACR Board, staff, and residents of this community. God Bless You Always Etta."